Inspection Bench
Structure in Stainless steel
Saltwater in the SPA can be cooled down to 2°C
Installation
Installation et formation possible
Assistance
Assistance téléphonique 7/7j
The new generation Hippocenter Spa helps improve blood circulation and optimize recovery. The salt water in the machine can be cooled down to 2 ° C and play an important role in healing. Numerous clinical studies have proven the positive effects of cold water spa on limb injuries and other inflammations. Made in our factories in Normandy this machine is equipped with a touch screen and is built in stainless steel.
Le SPA peut être utilisé pour la plupart des blessures situées sur la partie inférieure des membres :
Tendinite
Dermite
Arthrite
Synovite
Blessures aux sabots
Blessures ouvertes
Infections
Maladies de la peau
Le SPA peut aussi être employé de façon préventive :
Amélioration de la circulation sanguine
L'eau froide préserve les tendons et les tissus musculaires
Active la pousse de la corne des pieds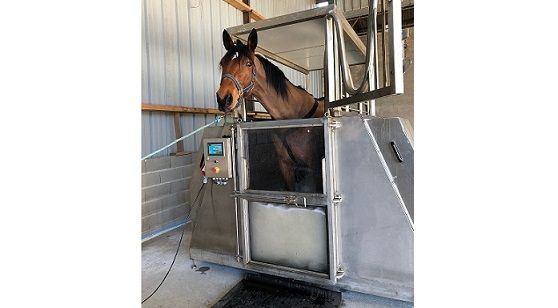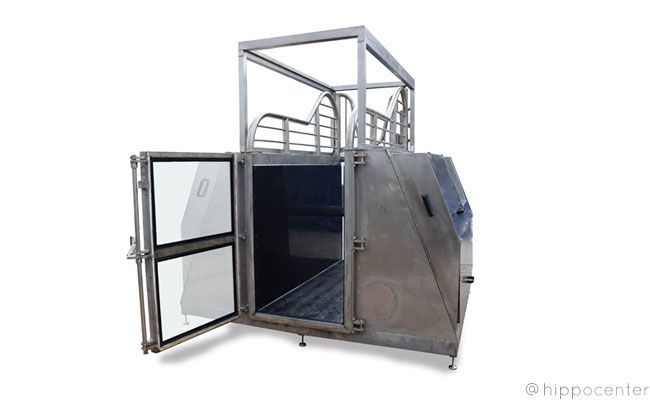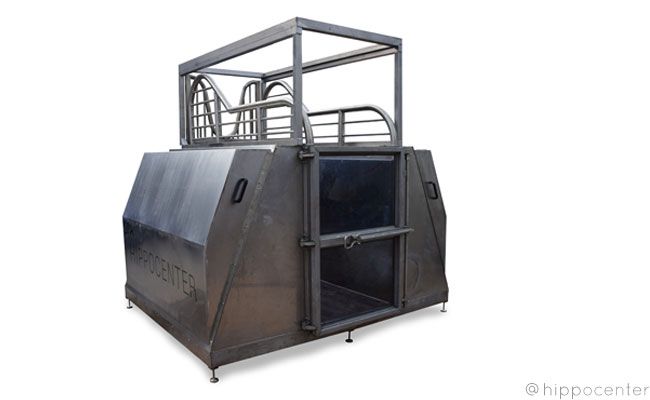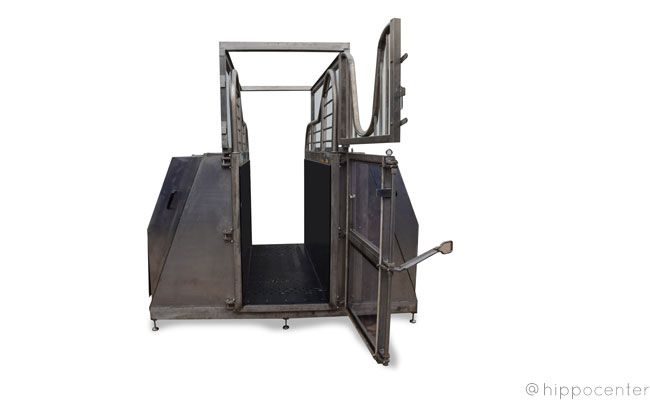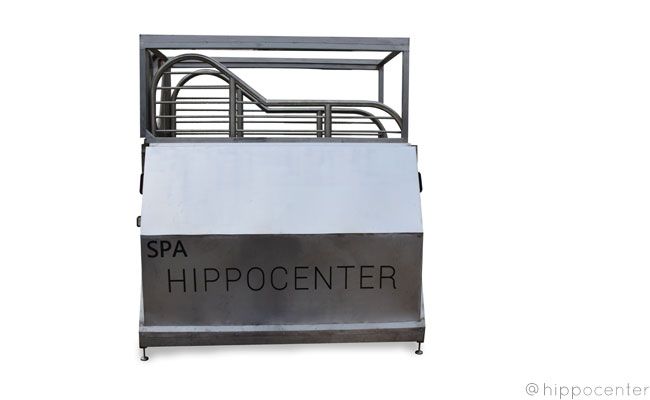 Technical characteristics
Inspection bench
Inspection bench
Adjustable water level
Diaper
Floor with holes to create swirles
Display of programming and temperature on a touch screen
Structure in stainless steel•Emergency stop buttom
Water cooling from 2 to 5 °c
Le Sel
La saturation en sel de l'eau (Supérieur au niveau de sel de l'eau de mer) permet l'augmentation de la pression afin de favoriser la résorption d'œdèmes. Il participe également à l'amélioration de l'assimilation de l'oxygène dans les tissus ainsi que l'élimination des toxines
La Hauteur
Le niveau de l'eau qui peut être adapté en fonction de la zone à traiter augmente la pression sur les membres dispersant les liquides inflammatoires (œdème par exemple) accumulés dans la zone.
La Température
La basse température de l'eau maintenue entre 2°C et 5°C permet de réduire la perméabilité des parois des vaisseaux baissant la présence de liquides inflammatoires type œdèmes. Par ailleurs la diminution de la température de l'influx sensitif entraîne une diminution des spasmes musculaires contribuant à l'analgésie de la zone concernée.
L'oxygénation
L'oxygénation par le sol possède 2 intérêts : Le premier, l'augmentation du O2 présent dans l'eau refroidie permet d'accélérer l'action du système immunitaire sur les inflammations. Le second, Les jets d'oxygènes massent les membres du bas vers le haut assurant un drainage et une amélioration de la circulation sanguine ainsi qu'une sensation de bien-être chez le cheval
La Filtration
La filtration est, selon nous, la partie la plus importante de la machine, elle se doit d'être robuste et autonome. C'est pour cela que nous avons sélectionné les meilleurs matériaux du marché. Avec un système de filtration à sable afin de garder une eau propre. Notre filtration dispose d'un système de nettoyage automatique pour un entretien simple et rapide.
Le Refroidissement
Notre planète est précieuse et notre entreprise s'engage dans ce sens en proposant des solutions respectueuses de l'environnement, d'abord dans notre système de refroidissement de l'eau, nous utilisons un gaz plus écologique, celui-ci accompagné d'un échangeur en Titane contribuant préserver le froid et donc réduire la consommation d'énergie. Par ailleurs, notre cuve intégrée dans la structure même de la machine est équipé d'une isolation optimale permettant de préserver la température de l'eau le plus longtemps possible et limiter l'action du groupe froid.