Installation
Installation and possible training
Solarium for horses Hippocenter
The Hippocenter horse solarium is designed to dry and/or warm up your horses with a dual effect. The lamps give off heat which is propelled by fans situated to the rear of the solarium. This diffuse heat reaches all parts of your horse, even the most distant. The average drying time is estimated as 23 minutes with our 15-lamp model and 18 minutes with the 30-lamp model. A token box can be installed on both models, to control use and obtain a return on the investment. French design, manufactured in Normandy.
Quels sont les bienfaits des rayons infrarouges du solarium Hipposun ?
Le solarium pour chevaux Hippo Sun a été développé par des professionnels du cheval. L'appareil se base sur les bienfaits des rayons infrarouges et de l'air chaud pulsé. Il est particulièrement efficace pour :
Sécher le cheval après un effort ou après la douche.
Echauffer un cheval avant l'effort.
Après l'effort grâce aux rayons infrarouges.
Améliorer la circulation du sang.
Accélèrer le processus de cicatrisation des blessures
Améliorer l'elasticité des muscles.
Une des particularités de notre Solarium vient du fait que les ventilateurs se situent à l'arrière. L'air est donc pulsé sur tout le corps du cheval mais refroidit également les ampoules, ce qui augmente leurs durée de vie.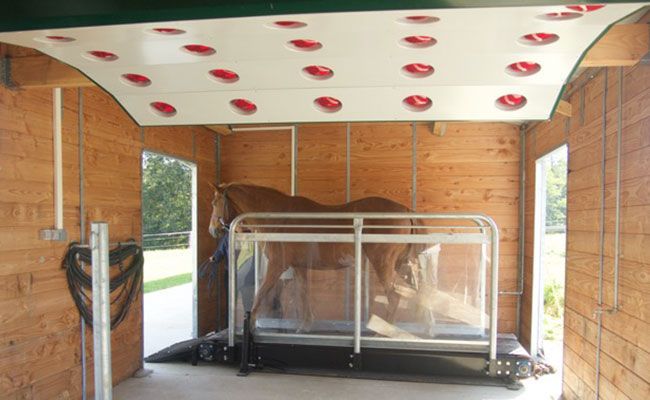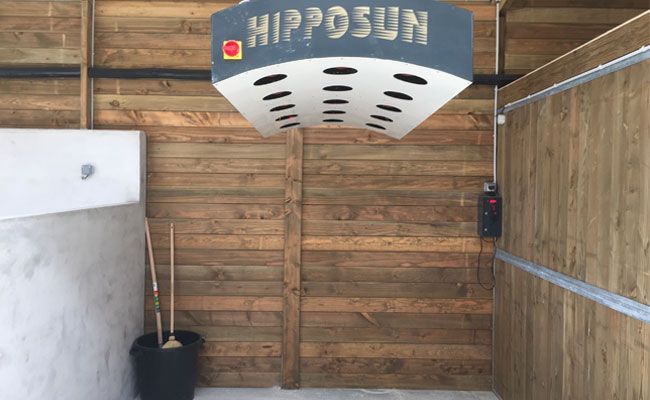 Technical characteristics
| | 15 Lampes | 30 Lampes |
| --- | --- | --- |
| IR 150 watt | 15 | x |
| IR 250 watt | x | 30 |
| Ventilateurs | 4 | 8 |
| Puissance IR | 2250 watt | 7500 watt |
| Poids | 40 kg | 80 kg |
| Longueur x Largeur | 190 x 100 | 190 x 200 |
| Tension nominale | 240 V | 380 V |